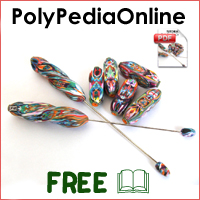 A new great tutorial has joined my free PolyPediaOnline tutorials -
Natasha Beads: Make your own beads and needle tool decoration
and...
A New E-book is Coming - #7!
I've been working all week, and my new E-book is almost ready!
This one is all about
Making Geometric Canes
, and the ETA is February 1st, 2010!
This E-book focuses on Geometric Millefiori Canes - How to make 9 (+ 1 Bonus) geometric canes - stripes, squares, rounds, dots, triangles and more. You can make new canes by variations and additions to the canes offered in this tutorial, providing you lots of new and exciting possibilities.