I got this wonderful feedback from Maria -
..." Iris! I can't tell you how excited I am with my new purchases!
Up until these 2 new tutorials were published I was making flower canes but wished I could see HOW YOU do it in person.
Since I live so far from you, I can't come to visit, BUT! the videos made me feel as if I was sitting next to you in a private class.
THANK you so much for sharing this, everything looks so much clearer!
Now I can become an ELITE caner!..."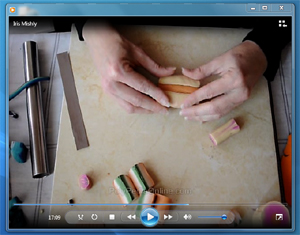 Millefiori canning looks so much easier when you clearly see the steps, video is the perfect
medium, and you got 9 of them included! Each cane with it's own video tutorial.
The new PolyPediaOnline Vol. 26 & 27
invites you to a spring tour with fresh ideas for new flower petals and canes, elaborated and more intricate designs - Learn all my secrets for accurate & perfect results with your millefiori canes!
PLUS - a bonus of a free tutorial - Vol. 1 backgroundless flower canes or any other from vol 2-10! FREE!
100% quality guaranteed!
price will be 20% higher on the 16th!