I'm so excited to introduce you to October's classes and tutorials featuring fantastic designs and techniques - 3 NEW tutorials this month
Learn the secrets of:


"Geometric Mosquito Necklace"
"Mystifying Floral Brooch" &
"The Wavy cuff - 3 versions"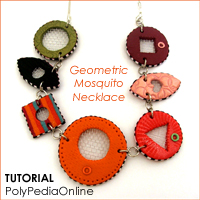 "Geometric Mosquito Necklace"
Have you ever found yourself wandering around at stores and looking for items or tools that can suit your polymer clay art?
I do!

One day I was looking for something to help me create a thin but strong polymer clay bead so I thought – why not use some kind of net/mesh for extra strengthening and at the same time gives an elegant look. I looked for something delicate, thin, flexible, ovenproof and not expensive & I found the Mosquito mesh. Here (in Israel), almost every house cover it's windows with this net to protect against Mosquitoes.
My recent tutorial "Geometric Mosquito Necklace" is using the same mesh to create an innovative unique look of flat beads.
These flat beads can be made using all kinds of clays, colors, textures, powders, paints, skinner blends and any thing you can think of. Their beauty is in their uniqueness, The "mesh-clay" combination gives them a very elegant and stylish look.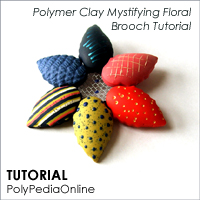 "Mystifying Floral Brooch"
While i was playing with the mesh i came up with a design of a floral brooch with domed beads.
I didn't want to use the traditional curing way on light bulb so i used a different technique. These beads are half domed, half flat and can be easily placed on any flat base - as beads on string, on a bag or jacket.
The Mystifying Floral Brooch has a beautiful combination of mesh-beads, special bumpy dots, plus you will learn how to make half domed beads.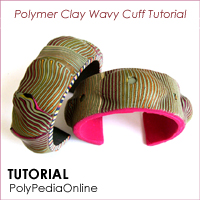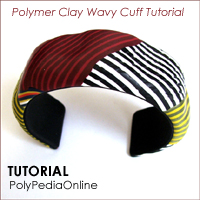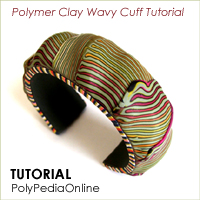 "The Wavy cuff - 3 versions"
Last tutorial offered are 3 cuffs versions which are a nice variation of both the floral brooch tutorial and the striped hollow bracelet tutorial - The Wavy cuffs tutorial is using domed hollow forms with millefiori to create this appealing design.

The 3 tutorials are offered for a special price!

To discover what it is -
CLICK HERE --->