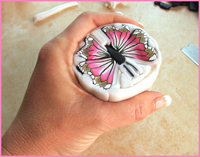 For the past few weeks i've been doing some "artistic" thinking. I was reading the survey feedbacks i got from my PolyPediaOnline members, and thought how can I pass my knowledge forward.
Clearly people want to learn! so many questions, queries, so many people wish to improve their skills, upgrade their work and even sell and make a living.
I took my real notebook (not my laptop :) ) and a pen and started listing my next projects.
Some of the projects were very clear to me since i made them so many times, but one of them was a little bit new to me. it was a tutorial on making a butterfly cane which so many of you asked for.
Now, this was a challenge!
would you believe me if i tell you that up until few weeks ago i have never made a butterfly cane? in all my 5 years of working with polymer and making canes i never made one. i don't know why, but this huge looking cane always intimidated me. i was certain that my 1st cane will be a disaster. to my surprise - it wasn't! i managed to go through the whole process without making any (almost) mistakes! i was so proud of myself!
Sometimes we fear the unknown, especially when in comes to artistic skills - "How do i start with such a complex project?", "what if a creation comes out all wrong?", "what will happen to all that clay i wasted? will it go to my scrap again?", - do you ask yourself these questions? I do! Yes, even an experienced clayer like me ask these questions all the time. When you ask the questions - you get answers!
Over the years I found different ways to avoid making mistakes, usually while trial and error, this is why i want to share my knowledge to simplify things - Creating has never been easier - with clear instructions, good photos, some diagrams & planning, everyone can make perfect canes - everyone.
i am happy to announce 3 new Tutorials :)
Let's introduce the new guys on the block -
The first is PolyPediaOnline Vol 8
A Great how-to on creating 3 polymer clay butterflies millefiori canes - 39 pages Step-by-Step Instructions that include both a one set wing butterfly (side view) and a two set wing butterfly plus a bonus of a "petal" butterfly idea with 150+ photos to guide you through.
The second is PolyPediaOnline Vol 9
7 beautiful roses millefiori canes - 97(!) pages Step-by-Step
Instructions, 370+ photos, includes classic rose canes, 3D rose canes, buds, outlined rose cane and more, plus a bonus of a 2 skinnered leaf cane and some cool diagrams for you to work with when building your canes.
This tutorial is so comprehensive and detailed i will be sending it in 2 seperate files.
And the last one is PolyPediaOnline Vol 10
A very useful guide to making your own signature namecane. A signature name cane is a wonderful way to personalize your pieces.
Clear and detailed instructions, 19 pages and about 60 full-color pictures to guide you through.
That's a fresh new resource to your future canes and creations!
But wait! there are more surprizes!
If you want to see how live reduction is made - you are welcome to join!
you can see more details about it in this page
First 20 buyers will get into a raffle to win a free tutorial!
& one of you will get 4 REAL canes from my personal cane box sent to your home!
you may get lucky! :)
Thank you for your time & Have the best day :)